hüma – no one has to abdicate real wood decking in wet zone areas anymore.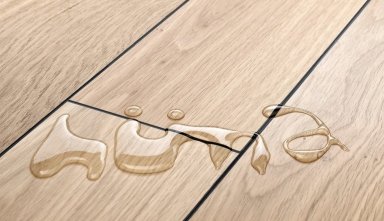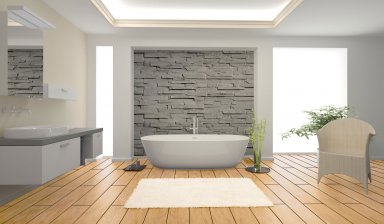 With our innovative hüma parquet flooring system, the natural product wood can now be installed throughout the entire home without compromise. Our high-quality oak parquet with state-of-the-art joint technology is not only waterproof, but the colour can also be designed according to individual requirements. With our parquet system, you can create brand-new living spaces, combine living and eating areas and convert your bedroom or bathroom into an oasis of comfort.
Fully waterproof – this hüma vouches for with its product guarantee. Whether installed in living areas, kitchens or bathrooms, the hüma parquet flooring system is suitable for any room of the house.
Click here to find more hüma details!
ADVANTAGES:
INSTALLATION TECHNIQUE


The flooring is easy laid vertically using the lock-and-key principle thanks to the innovative hüma SNAPCON. The 1.5 mm thick sealing lip in the upper joint area provides protection against the ingress of water.

SUSTAINABILITY




The innovation enables wood – a natural and sustainable material – to gain new areas of application and replace the inorganic, petrochemical flooring that currently dominates these areas.
SURFACE FINISHING




The surface creates a perfectly balanced material pairing: the first component is an elastic, highly abrasion-resistant PU hot melt, while the second is a hard, scratch-resistant UV acrylate. This combination produces excellent properties even on very thin layers, with an emphasis on the natural qualities of the wood and its incomparable feel.

MATERIAL


hüma uses European oak from sustainable forestry. This is a hard and robust type of wood with an attractive grain and the timeless aesthetics of plank flooring. The three-layer oak parquet with waterproof thermoplastic elastomer joints consists of a premium-quality, one-strip-thick veneer with a thickness of 3.5 mm.